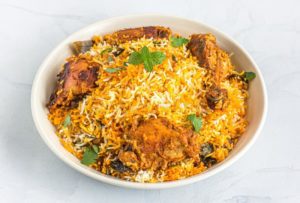 Healthy Kluang Desa Mutton Biryani Best Favourite Choice.
Mutton biryani is a healthy nutritional food providing you with immunity power. It is healthy for the body and increases the strength of the bone. You can consume mutton biryani along with the side dishes such as pappadam, salad and pickles. In the Muslim world, mutton biryani is consumed during the festival, a happy occasion.  It is the main dish for certain upper-class families to serve mutton biryani during weeding. Likewise is the same for Malaysia restaurant to serve healthy mutton biryani as their favourite choice.
The Origin of Mutton Biryani
There are many versions of the origin of biryani. It is mainly origin during the Moghul Empire in the Indian south continent.
But the main basics remains the same with many species added to enhance the flavour. It mainly eats the long grain rice in the Indian subcontinent. The Middle East prefers Nan over the rice.
Hyderabad Biryani
I first tasted the best biryani that I had ever eaten in a restaurant. It was a stone throw away from the main gate of the Osmania Medical College in Hyderabad.  It was extremely hot and spices with fresh dried raisins were added to the rice. After 30 minutes of devouring, my Iranian friend dashed off to the toilet. Is it true that the people from the Middle East nations are not used to hot and spicy dishes?
"What happened to you Ali, are you alright?
"Jamin, the mutton was extra hot. I feel the burning sensation around my anus. I am not used to taking hot chilli spices food back home." he explained.
Kluang Desa Mutton Biryani
Without tasting the finger-licking Desa Biryani, a visit to Kluang is not completed. The Desa biryani is a double story shop lot situated parallel to the main road between Kluang and Air Hitam. It is a traffic light junction before you take a left turn, in front of the Petronas kiosk. It is a sibling affair business runs for almost 2 decades by two brothers in Taman Desa, Kluang.
Sold out MUtton Biryani
On a normal day, it starts to serve the throng of customers queuing up as early as 10.30 am. 2 large pots of Basmati long grain rice would be finished by 12.30 pm. I feel sorry for the latecomer. You can choose either mutton or chicken with a side order like pappadam beside the cucumber and pineapple achar. Or you can be sipping a cup of cool lemon ice refreshing drink to round up your meal. Once you try the healthy Kluang Desa mutton biryani, you would always want more of it.
Since it occupies only one shop lot, the customer prefers to pack their food eating in the cool comfort in the office or at home. This is a setback for this shop. Once you have eaten, you would come back for more. People eat with full perspiration under the fan as long as the food is authentic and delicious.
Addictions to The Kluang Desa Mutton Biryani
I have a friend who runs hails from Kahang, a distance of 35 kilometres.   Be it rain or sunshine,  never fail to pay a visit to the shop just to savouring the finger-licking mutton biryani 3 times a week. Of course, he packed home for his family members too.
Nutrition Fact Healthy Kluang Desa Mutton Biryani
Healthy Kluang Desa Mutton Biryani Best Favourite Choice is a must-try for your next visit to Kluang.
The nutrition information of mutton biryani: 600 calories, Fat: 20 and carbohydrates: 40g.
If you like my article
Please share it out with your friend or family member. Sharing is joy doubles. I welcome any suggestion and comment or be a subscriber to my mailing list.
Email me at kluanghomestayvillacom@gmail.com
Thank.
Facebook Comments