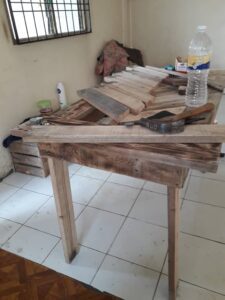 Learn The Truth Why I Do Home stay Instead Of Rent Out!
I do home stay instead of rent out , let us dive in. Do you own several houses? Yes, what shall you do? Do you give a deep thought about it? Do you begin consultations with your spouse, family member, or buddies? What is your conclusion?
Do Home stay or Rent out
Your mind is a struggle which is easy to do? Do home stay or rent out? Whatever the outcome, I respect your judgment to rent out, like most people prefer the easy way out.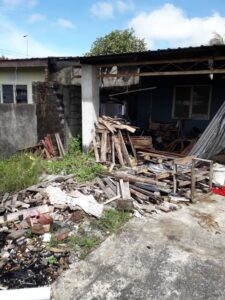 My spouse had a terrific experience, and so did I had an endless nightmare before retiring to bed. It was a lock down for Malaysia, as there was no flight for the public between East and West Malaysia for almost two years. My late mother-in-law house was empty after her younger son passed away because of throat cancer in March 2021.
Learn The Truth Why I do Home stay instead of Rent Out nasty experience
Our nightmare began with a stranger illegally occupying the vacant house to use as a small woodworking workshop. Despite us shouting our lungs out, no one emerged from the house.
My spouse, like a zombie, is exhausted when confronting such a burning issue. To force the illegal occupant out of the house, we cut off the water supply. But, we had to pay Rm154.34 for water usage from June 2021 till December 2021.
The carpenter still occupied  comfortably in the house even without a water supply. This is very dismay to us.
With only a Hudson choice left for us, we ended the electricity supply. Yet, there are so many obstacles encountered by us. The illegal tenant refused to open the iron grilled to the authority concerned to cut off the supply. The executive in charge called me that their technician confronted very hostile e with the tenant by trying to ax them for their second attempt.
He suggested I lodge a police report. What the heck!
We went no less than five visits to the utility board. Now I have to go to the police station which most Malaysian hate to do so. I waited patiently for over 2 hours during the COVID-19 Sop in Malaysia. A  very helpful Johorean police after learning my predicament,  did his utmost best to write out the report. I was delighted to have high tea with my wife and friend, who unselfishly lent her hand out and drove around with her car after her retirement. But they did not materialize.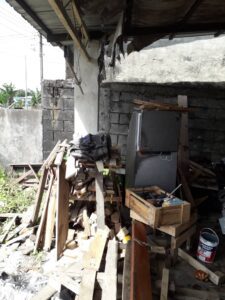 Rent out making a police report
Soon the Johorean police called me to look up for his sergeant superior whose office was another a few kilometers away.
Indeed, we had the utter task of locating the station with many dead-end roads. Finally, we arrived. I rash to the front office for an inquiry but was told to climb up 3 floors to meet the sergeant.
Like climbing Mount Kinabalu to me with my right knee osteoarthritis coupling with nephropathy pain. It took 15 minutes to climb up with each step struggling with the nerve pain. Atlas, ultimately, we met after all the formality had done. Politely, I bide him and went down the trembling, eerie, dark staircase.
Shameless Tenant
To aggravate the situation, by rubbing salt on the wound, three parties, namely the police, electricity, and the landlord, had to be present simultaneously there for the technician to remove the electricity meter. It is a matter of spontaneous communication for us!. Finally, we got the job done.
The police assured me the tenant would move out within 3 days, but it turned out otherwise. We went there to collect the key back from the tenant; he played hide and seek with us. I called the sergeant for advice. As you are an owner of the house, you are free to do what you deemed fit. I cut the padlock and changed it to our stainless padlock. All his tools and unfinished work were left behind.
Why I do home stay instead of rent out
He had the gut to call me for the house key after missing it for 10 days. He wants to overnight with his eldest son and do all the clearing for the house from 7 pm to 10 am the next morning. I yelled at him, please stay out of my house. For an ample time of 3 days, he did not clean the house. Do you think he could do it in 12 hours? I doubt?
I intend to get a new tenant; we paid RM700.00 for a professional cleaner and transporter to remove all the recycled wood chips and wooden planks plus some burning. I salvaged the essential useful tools and unfinished tabletop to compensate for all water and electric bill usage. I analysis that the house is not suitable for making a home stay.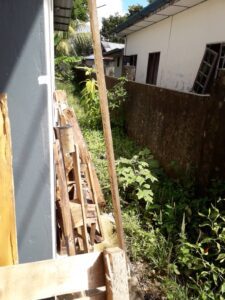 I prefer home stay than rent out
I managed two units of home stay here in Kluang Johor. The econ-friendly and gated community is best suited for the home stay surrounded by some fruit trees. We hired a part-time stay-at-home parent for cleaning before the guests check in the next day. A semi-retired hand does the electrical fault.
Having said that, we need capital upfront to furnish a home stay, like bed and cot, mattress, table and chair, refrigerator, wash machine, TV and others like cupboard and wardrobe and dressing table.
The initial capital outlay needs years to reap back the profit. Marketing is of utmost importance and the essential fundamental to survive in this hostile industry, not only from our peers but also in the hotel industry. I develop my website and YouTube instead of paid advertisements on social media.
Facebook, Instagram, and tweeter. Survival is for the fittest. During the Covid19  pandemic, a lot of fly overnight home stays had permanently closed.
Home stay vs Rent out
We collect an initial deposit from our guests, and the balance will pay full when they check-in. There is such default in payment unlike the rental, sometime, there is a week delay by the tenant. On the contract agreement, there is a clause that stipulated the landlord allows charging 7% interest per annul on daily pro-rota.
Normally, we wave off as the amount is insignificant, unlike the commercial building that runs into a thousand-dollar in a day.
In any industry, we are bound to stumble across some nasty tenants. I had one tenant in Johor state , who removed my aluminum toilet door after moving out. Images, a toilet door for a souvenir. Some PhD research students jack away my queen-size coconut fiber bed after three nights' check-in. No wonder some people quote PhD.D. abbreviation for Permanent Head Damage.
Why I do home stay instead of rent out?
Based on the above narration, what is your decision if you own several units of house, rent out, or home stay? Before jumping to any conclusion, we need to study the pros and cons first.
Facebook Comments